THE GUARDIAN OF SUSTAINABLE EXCHANGES
Allowing access to the tubes internal surfaces, the ELECTRA exchangers are ideal for use with corrosive fluids or heavy fouling process. The tubes interior may then be cleaned periodically; insuring improved efficiency and longevity for your exchanger. In addition with the use of water boxes as inlet and outlet collectors, numerous thermal configurations are possible in order to always better optimize the heat exchange between the two fluids.
A QUALITY DESIGN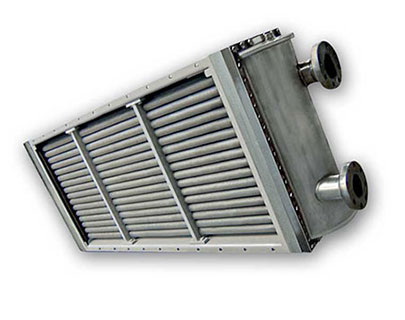 Thermofin's generator & motor coolers may be designed to meet the prescriptions of the ASME Code, and even more restrictive specifications such as the american military specifications or those of some of our reknowned clients. Accordingly, Thermofin's unit may bear the ASME "U" or "UM" Stamp, the China Licence number, or they may also be registered with quality control agencies such as the American Bureau of Shipping (ABS), the National Board (NB) and other regional jurisdictions (CRN).
The reliability of an exchanger rests on the judicious choice of materials and on sound design. A good example of this is found in Thermofin's dedication to reliable and durable leaktightness of water box covers via the systematic application of O-ring joints (made of neoprene, silicone, buna-n or other suitable joint materials) in the design of ELECTRA heat exchangers. This feature and others like floating tubesheets, expansion joints and our famous aluminum extruded finned tubes make the ELECTRA heat exchangers a highly technological equipment made to provide long term quality sustainable service.
MULTIPLE OPTIONS
To better serve the needs of its clients, Thermofin offers multiple configurations and options that can be integrated to its ELECTRA generator and motor coolers.
CHOICE OF MATERIALS
A wise choice of materials is fundamental to insure the performance and reliability of a heat exchanger. From tubes and tubesheets to headers, Thermofin offers a wide choice of materials, like stainless steel, steel or copper-nickel.
CHOICE OF COATINGS
Various coatings available on the tubes or the exchanger, like special painting, "Heresite" or hot galvanization.
Water boxes and tubesheets
304 stainless steel

316 stainless steel

Duplex 2205

Titanium
Copper

Cu-Ni 90/10

Cu-Ni 70/30

Carbon steel
304 stainless steel

316 stainless steel

Carbon steel

Duplex 2205

Titanium
Copper

Cu-Ni 90/10

Cu-Ni 70/30

Naval brass

Muntz metal
CONFIGURATIONS
Many settings are available to customize the generator and motor cooler per your requirements. The water boxes, for exemple, can be built in sandwich, welded, folded, or built with the connections placed on their circumference, allowing access to the tubes without disturbing the piping connections.
A RELIABLE TECHNOLOGY
For environments where a leak can deteriorate critical equipment and cause exorbitant downtime and maintenance costs, Thermofin proposes two very efficient leak detection technologies.
DOUBLE TUBE CONFIGURATION
This configuration is based on the insertion of a tube inside a second tube of a larger diameter. In the event of a leak from the inner tube where the fluid circulates, longitudinal grooves situated between the two tubes permit the transport of the leaking fluid to a detection compartment. It may then trigger an alarm or accumulate in a leak reservoir thus preventing fluid contamination or liquid splashing onto sensitive surrounding equipments.
DOUBLE TUBESHEET CONFIGURATION
Statistically, most leaks occur near or at the tube to tube plate joint, the location where the material must withstand the greatest stress concentrations from thermal expansion, roller expansion or tube joint welds. This second technology option is less expensive than the previous and allows, by the addition of a second tube plate, the transport of the fluid leaking through a non functional tube to tube plate joint into a detection chamber.
ELECTRA : A WELL-THOUGHT-OUT DESIGN!
The use of our famous aluminum extruded finned tubes, in addition to many other great features like O-ring gaskets, expansion joints and floating tubesheets, make the ELECTRA generator and motor cooler a highly technological equipment made to provide long term quality sustainable service.
INDUSTRIES
The ELECTRA generator & motor coolers are a perfect solution in the following industries
You are an agent interested in selling our products, or you are simply looking for additional information? Don't hesitate to download our brochures. We can also provide, upon request, prints & other promotional material.
For all inquiries
Call us :
+1 450-444-4405
WE ARE
EFFICIENCY-DRIVEN
HEAT EXCHANGER CREATORS