A QUALITY DESIGN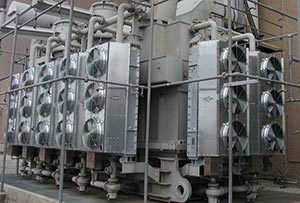 Critical part of electrical substations, the transformer oil cooler insures the integrity and increases the efficiency of the transformer unit. To meet these requirements, Thermofin starts by doing a highly specialized thermal design optimizing transformer oil cooling. Our reliable and heavy duty construction guarantees an extended lifetime and limits maintenance and shut down requirements. Lastly, Thermofin makes sure its transformer oil coolers have an irreproachable cleanliness, to insure the integrity of the transformer is never at risk of being compromised.
PERFECTLY ADJUSTED TO YOUR INSTALLATIONS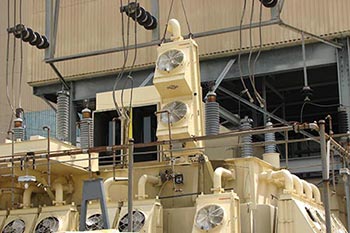 Building on its experience, Thermofin has manufactured, installed and replaced transformer coolers in several hydroelectric dams and several major electrical stations. One of Thermofin's greatest strength in transformer cooling is offering highly customized solutions to perfectly fit any existing installation.
You are planning to replace one of your exchangers, but are uncertain of the dimensions needed to replace it. Our specialized technicians will be pleased to take the dimensions to ensure that everything will perfectly fit in place. The technician we send on site will ensure the accuracy of each dimension in order to occupy the space provided in the most optimal way possible.
You don't know the current heat performance of your heat exchanger? We are able to perform on-site instrumentation of your heat exchanger in order to accurately determine the heat performance of your heat exchanger. Once the data is collected, our thermal specialists will analyze it to determine the exact performance of your exchanger and to identify possible causes of underperformance.
KNOW-HOW
Following many years of R&D and with its expertise in the thermal field, Thermofin has developed a highly efficient aluminum extruded finned tube for transformer coolers. This tube, in addition to having integral aluminum fins on its external surface, has a integral turbulator on its internal surface. This feature makes it possible to break the effect of the boundary layer created by the laminar flow of the oil and thus increases the heat transfer coefficient. This innovative technology avoids the need of moving parts that could lead to the formation of metallic particles that could damage the transformer.
1 - OFAF TRANSFORMER COOLER : OIL FORCED / AIR FORCED
These coolers use the ambient air through the use of fans to cool the dielectric oil contained in the transformers. OFAF coolers are often used when the cooling capacities are high. These heat exchangers are equiped in standard with our famous aluminum extruded finned tubes (POWERFIN) which avoid performance losses through the years. Depending on ambiant conditions, other fin materials can be used, like copper fins for salty environment. The use of industrial grade fans and motors makes our T-REX very reliable and durable transformer coolers.
2 - ONAN TRANSFORMER COOLER : OIL NATURAL / AIR NATURAL
ONAN (Oil Natural / Air Natural) transformer coolers, also known as panel heaters, use natural air convection air (without a fan) to cool the dielectric oil contained in the transformers. The circulation of the oil in the ONAN exchanger is also carried out in natural convection (by thermosiphon). It is therefore not necessary to use an oil-side circulation pump. ONAN coolers are often used when the cooling capacities are low. Thanks to the pannel technology, these coolers offer a high reliability combined to a low cost.
3 - ONAF TRANSFORMER COOLER : OIL NATURAL / AIR FORCED
ONAF (Oil Natural / Air Forced) transformer coolers are in fact ventilated panel radiators. The addition of fans significantly increases the panel radiator efficiency by changing the operating mode from free convection to forced convection.
MAIN PROBLEM OF ONAN/ONAF : CORROSION!
OUR SOLUTIONS TO CORROSION ISSUES
Specifying a paint system meeting highest international standards (ASTM B177 : Salt Spray environment test and ASTM D5894 : Cyclic corrosion/UV exposure test)
Reinforcing the internal protection by applying a paint & varnish coat resistant to hot transformer oil like Ching RD124
Asking for a galvanizing standard per international standards (ISO 1461) with a minimum thickness of 125 microns. Loss of galvanizing rate : 5 m / year
Radiators shall be fully immerged during Hot dipped galvanization process. HDG process is designed to eliminate any possibility of distortion even in 1 mm thick radiators
Flow coating is mandatory when painting radiators. Normal applications methods (spray) may only be able to coat 75 % of medium size transformer's radiator area and even less for larger transformers. Specifying flow caoting per NACE SP0297 = guarantee of quality
Superior welding system which prevents weld contamination leakage and premature corrosion : Radiator panel shall have a « L » shape to avoid any welding directly at the fin root.
Coined and slit edge for better paint and galvanization adhesion at vulnerable edges
4 - OFWF TRANSFORMER COOLER : OIL FORCED / WATER FORCED
OFWF (Oil Forced / Water Forced) transformer coolers allow smaller footprint by using water as the cooling medium (more efficient than air). Indeed, these coolers reduce the temperature of the dielectric oil contained in the transformers thanks to the river water or a nearby lake. Various waterbox designs are available, allowing easy access to the tubes for cleaning. Leak Detection option (double tube and double tubesheet) is also available to avoid the cross-contamination of fluids.
5 - ONWF TRANSFORMER COOLER : OIL NATURAL / WATER FORCED
ONWF (Oil Natural / Water Forced) transformer coolers also use water to cool down the transformer dielectric oil. On the other hand, these transformer coolers are designed in free convection on the oil side, so it is not necessary to use an oil pump, the oil flowing naturally by thermosiphon in the exchanger. Free convection thermal calculations require greater heat transfer knowledge, and Thermofin's empirical approach, custom design, and manufacturing expertise has allowed for the development of highly efficient products for this application.
If your transformer is currently equipped with internal type ONWF coolers, Thermofin is also able to reproduce these exchangers. It is therefore possible to extend the lifespan of your transformer.
MANY OPTIONS AVAILABLE
To facilitate the installation of Thermofin coolers on your transformers, Thermofin offers a wide range of services and options for your equipments.
CONNEXIONS
Thermofin offers various type of connections (B16.5 flanges, «Dresser» couplings, NPT, Victaulic connections, etc.) to adapt perfectly to your transformer.
COATINGS AND MATERIALS
Numerous material combinations are available to meet the needs of your application, like copper fins or stainless steel tubesheets. Various surface coatings may also be applied depending on the site's environment and the specific process requirements.
Various choices of materials (ex.: copper fins)

External fin and unit protection by "Heresite" type immersion

Special painting system as per supplied specifications

Hot dip galvanization (ASTM 123 or other specified requirements)
PUMPS AND ACCESSOIRIES
Thermofin is able to select and provide the current accessories :
Oil circulating pump

Leak detector switch

Oil flow indicator switch

Temperature sensor
INDUSTRIES
T-REX transformer oil coolers are perfect in the following industries
You are an agent interested in selling our products, or you are simply looking for additional information? Don't hesitate to download our brochures. We can also provide, upon request, prints & other promotional material.
For all inquiries
Call us :
+1 450-444-4405
WE ARE
EFFICIENCY-DRIVEN
HEAT EXCHANGER CREATORS