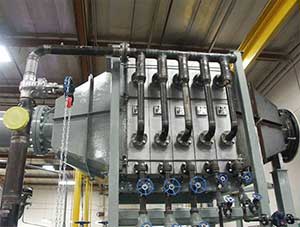 ICOIL industrial heating or cooling coils are custom-made to meet your needs. Whether for new applications or replacement of existing heat exchangers, our team of designers will analyse your needs and will be able to offer you the best solution for your cooling or heating process.
OUR INDUSTRIAL COIL MODELS
TYPE MP
The use of U-bends offers a great flexibility regarding the heat exchanger configuration. Connections can be on the same side (even number of pass) or on the opposite side (odd number of pass)
TYPE UG
In opposition of MP type, tubes are integrally bended. This offers the advantage of reducing the number of tube joints and thus, potential leak risks but limits the heat exchanger configuration possibilities. Connections are on the same side.
ROBUSTNESS AND RELIABILITY
ICOIL heat exchangers are designed to reduce cleaning frequencies and therefore reduce maintenance of the coils. Thermofin uses POWERFIN extruded aluminum finned tubes in the design of its coils. Unlike plate fins or wrap-on fins, it is very difficult to bend or damage the extruded aluminum fins when handling or cleaning the coil. Thanks to the POWERFIN technology, the thermal performance of the coil will not decrease over time (no galvanic corrosion issues).
COATINGS
Depending on the operating conditions of the coil, it is possible to apply a protective coating on the fins. Your coil can be designed with stainless steel, copper or copper-nickel fins to avoid corrosion and withstand high temperature on the fin side.
DESIGN
The specific design of ICOIL industrial heating or cooling coils greatly reduces the risk of leaks. Most leaks are located in the return part of the coil (Ubends) or at the junction of the tubes to the headers.
Depending on the application, tubes can be welded or brazed to the headers. When welding is used, tubes are welded from the inside of the headers, ensuring a better melting of the solder between tube thickness and headers. In the case of brazzing joints when round pipes are used for the headers, sleeves made out of thick tubes are usually welded to headers, and then finned tubes are brazed to these sleeves. This configuration ensures a good brazzing penetration.
The choice of thick tubes combined with the right material also significantly extend the service life of the coil. Most commercial coils use copper tubes only, often less than 0.028″ (0.71 mm) thick, which in some cases leads to premature leakage.
These manufacturing details make a huge difference in terms of durability and reliability of your industrial heating and cooling coils.
INDUSTRIES
The ICOIL industrial heating and cooling coils are a perfect solution in the following industries
For all inquiries
Call us :
+1 450-444-4405
WE ARE
EFFICIENCY-DRIVEN
HEAT EXCHANGER CREATORS